Let's make moving home easier
Moving House - Where to Start
Marriage, children and Moving Home are the three most stressful occasions of a person's life.
Whilst we can't help you on the marriage and child front, we can certainly help make your relocation much easier.
We've put together a comprehensive moving house checklist to help make your life a little easier.
Are you ready to get started? (Deep breath)
Let's get to it!
Notify landlord you are moving house
This one is pretty self-explanatory.
If you are renting, notify your landlord in accordance with your contract that you will be moving out. Most landlords require written notice and may also want to schedule an inspection of the property.
Declutter and throw out what you do not need
This can be either therapeutic or emotional, depending on your hoarding levels!
The truth is the less you have to move, the better.
Start by going through each room and decluttering. If there is something you do not need or want anymore, get rid of it. This includes clothes, furniture, appliances.
You can also recycle or dispose of your old tech, furniture and accessories.
If there are items that still have some life to them, consider selling/donating them instead.
Order your packing materials for your house move
What does lots of stuff need? Lots of boxes!
Order your packing materials in advance to avoid the stress of having to gather everything last minute.
Packing boxes, bubble wrap, tape and markers are all essential for a successful move.
And where do you get all this from? Fear not, Marriott Removals have you covered. Visit our shopping page to purchase our home move bundle.
Labelling each box according to the room it belongs in (more to follow in this article) is also a great idea. Doing so can prevent the chaos (and arguments!) finding items in your new home.
Inform your utility providers
When you let your utility providers know the exact date you'll be moving, they can do some preparation and it will also help avoid confusion on the day of your move.
You should take meter readings and photographs of both meters on moving day in both your old and new home. This can help if there are any discrepancies with bills after you have handed the keys over.
Utility companies can sometimes take a while to update their records, so it's always best to have your own documentation just in case.
Depending how long you have been at your address, there could be PLENTY of companies you need to inform of your home move.
Redirection of your mail is a great service offered by Royal Mail. You can choose to have all your mail redirected to your new address.
Once you have informed Royal Mail of your home relocation, it's time to update all your other important accounts and subscriptions. This includes banks, credit cards, insurance companies, etc.
Redirecting your mail gives not only you time to update companies of your relocation, but for firms to update their records too.
You can usually change your address online with the majority of companies.
Worried you may be missing a supplier or important contact off your records?
We've got you covered! Download our free updating records document for your house moving needs.
Redirect your landline to your new home
How else will family and friends get directions to your new location?
Contact your phone supplier and notify them of your new address. If you are staying within the same area codes, you should be able to keep the same number.
Your provider should be able to help with the process and set up your new home phone in no time.
Have you downloaded our Moving Home Checklist yet?
Start running down your freezer
Chances are you have a freezer full to the brim with food prepared to last an apocalypse.
While it's definitely not necessary to eat everything before you move, it is a good idea to start running down your supplies.
Take the opportunity to use up any frozen food items and clear out the freezer.
(Speaking of which, you have probably been actively eating your ice-cold treats as they come out of the freezer!)
If you have had to turn off your freezer to bring with you, a lot of this food could be defrosted and spoilt.
So light up that grill, and feast up!
Inform your insurance firms of your new address
You may feel this falls into the 'supplier' category but it does not.
Why?
Because this is important and you probably don't want to risk losing any cover.
Some companies may not need immediate notification of your move, while others require it straight away
It's always best to check with your insurers to make sure you get the right delivery time for them.
An important note to be aware of, your premiums could change!
Depending on the risk brackets of your old and new homes, the amount you pay could change significantly .
It's always a good idea to check with your insurer if this is going to affect you before moving home.
Organise child and pet minding for your moving day
Running around with valuable items moving everywhere. 
Children and pets can sometimes be not only a hindrance but a potential hazard.
Asking friends or family to mind your loved ones a couple of weeks before, gives people enough notice to be available. It also gives you the chance to finalise important moving day arrangements.
If you cannot be without on moving day, there are ways to ensure everyone can be part of the fun.
On the day itself, your children can be amused with packing boxes and watching our removal team (they can be funny!) in action whilst your pet can relax in a safe and familiar environment.
Our team will be more than happy to make the adjustments to make your home removals process as comfortable as possible.
Transfer any plants you are bringing into pots
To some of our clients, their plants are like their babies! You don't have to worry if you're in the same situation.
Many plants can survive a move if they are transferred into pots beforehand.
Not only does this make it easier for your plants to be transported, but it also means they'll have time to get used to their new surroundings before being replanted.
This is a great way to ensure your plants make the journey safely and are in good condition on arrival.
If you've had to turn off your freezer for moving day, it's time to defrost!
Even if you don't have the luxury of time, make sure you try and tackle this job.
A full freezer can take days to defrost, and that's if you're lucky.
The worst case scenario is a flood of water comes rushing out after the door has been opened for any period of time. Our team do not wear waterproof clothes, so would prefer to stay dry!
This means hours upon hours of mopping up which could have been prevented with better planning!
The end is near, we promise!
There is nothing worse than arriving at your new home, then finding all your essentials are buried away where you need Bear Grylls to parachute in to help you locate.
One way to avoid this problem is by preparing a moving day box. This box should include all of the essentials you will need on the day itself, such as toiletries, a change of clothes and your phone charger.
This will ensure that you have everything you need close to hand, and will avoid having to search through boxes for hours on end.
It also means one less thing to argue with your family about on the big day and night!
Disconnect dishwasher and other domestic appliances
The night before the removal team arrives, it's time to start disconnecting those domestic appliances.
This includes your dishwasher, washing machine and any other electrical items you have in your home.
Make sure you label each wire with a sticky note or similar, so that they can be easily reconnected at the other end.
See, this moving house process is easy, right?
Set aside your cleaning items (vacuum included)
Some house movers like to leave their home in a clean fashion for the new owners.
If you fall into this category, it will be best to keep aside your cleaning items from the packing boxes for easy access.
This includes your vacuum cleaner, mop and bucket, and all the cleaning chemicals you'll need to get the job done.
It's also a good idea to pack any rugs or mats you may have, as these can be difficult to clean properly if they're covered in dust and dirt.
Label boxes and furniture to the room where they belong
Avoid the headaches! Once you have all your boxes packed, it's time to label them.
We understand how daunting this task may seem, but once completed the process is so much easier!
This means you can easily direct moving day crew where everything should go within no time at all.
The best way to do this is by purchasing a removable marker pen and writing directly onto the box (We sell these too!), as it's often hard to see what's been written from the outside of the box once everything has been packed inside.
We all know moving home can take away the excitement of your new venture. But with a bit of organisation and forward planning, it can be much easier!
And what makes the process even easier? Hiring Marriott Removals.
Our team have been making home removals easier for our clients since 2016.
Our team of experienced and qualified home removers will take care of your belongings as if they were their own, ensuring a safe and smooth move for you and your family.
If you're looking for a quick quote or more information about our removals services, please give us a call today on 0161 885 0503.
We hope these tips have helped and that you now feel more prepared for the big day.
Don't forget to download our checklist below. Tick off each task as you complete it, ensuring that by the time your move day arrives you are on track.
Looking for a removal company to help you move? Get a free quote.
Looking for more tips on moving house? Check out our blog for more advice!
Share with your community!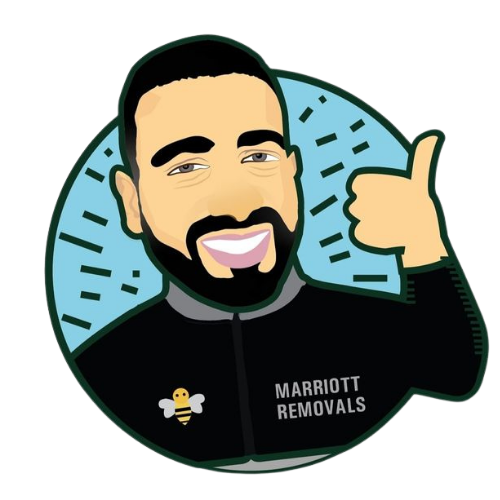 Let us quote your commercial removal today.
We promise it won't break the bank (or your back).
Let's get you moving home
Removal services for any need