Best Packing Tips Before Moving House
I think we can all agree one of the most stressful things when moving home is packing!
A whopping 48% of people moving home say it is THE MOST stressful thing when relocating.
Preparing for your house move ahead
But it doesn't have to be that way! With a little bit of organisation and some helpful packing tips, you can make the process a whole lot easier on yourself.
In this article, we'll share with you advice from our house removals team on packing and moving.
We have moved a lot of houses and I know what to do to make your move as smooth as possible. Our moving house tips for packing will help you avoid some of the common problems people have during the moving process.
How long before moving house should you start packing?
Start packing as soon as you know you're moving.
If you can, start packing non-essential items a few weeks before the move date.
This will make things easier on you when it comes to packing up the rest of your belongings closer to the date, and avoid feeling overwhelmed with everything you need to do.
Remember, keeping things in bite sizes is key when it comes to reducing stress levels!
Before packing
The first step is to make a list of everything you need to pack. This includes items in your wardrobe, on shelves, in the loft, garage, etc.
Creating a list will help you keep track of what needs to be packed and where it needs to go.
It will also be useful when it comes to unpacking at your new home, as you'll be able to easily find things and know exactly what needs to go where.
Packing supplies you'll need
Once you have your list of items, it's time to gather the packing materials you'll need to make the task light work.
Packing boxes of varied sizes
It does not matter how many boxes you have in your home, you will need more. And not just more packing boxes, but a few boxes of different sizes for your moving needs.
You will find that you need small boxes for heavier items and larger boxes for lighter things such as pillows and duvets.
Here are some examples of the types of moving boxes you may need;
Small boxes for heavy items such as books
Medium boxes for general household items
Bigger boxes for lighter items such as bedding and towels
Extra large boxes for bulky items such as lamps and vases
A dedicated essentials box for valuables and important documents
Wardrobe boxes for safe transportation of your hanging clothes
Marriott Removals packing tips: If you have time, raid your local supermarket or newsagents for their empty cardboard boxes a few days before you start packing.
Just make sure to clean them out and reinforce the bottoms with some packing tape before using them.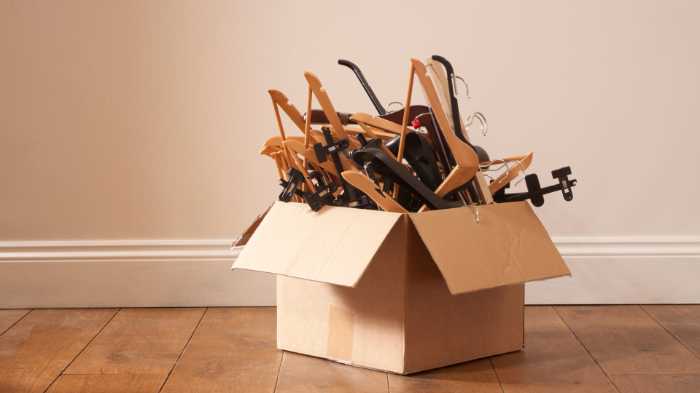 Packing tape and labels
Packing tape is your best friend when it comes to packing up your belongings. It will help to keep everything secure and in one piece during the move.
And once you've started packing, you'll quickly realise that labelling each box with its contents and which room it needs to go in at your new home is a total lifesaver!
Packing paper, bubble wrap and old towels/blankets
If you have any old towels or blankets lying around, now is the time to use them!
They come in handy for wrapping up delicate items and protecting your furniture from getting scratched.
Packing paper is also great for wrapping things up tightly and keeping them safe in transit.
And if you have any bubble wrap, that's perfect for protecting fragile items such as glassware and ornaments during the house move.
Book our packing team
If all the above sounds like too much work, or you simply don't have the time to do it, then you can always book our lovely packing team to do it for you.
Not only can we pack the items for you, our house removal team in Stockport and Manchester can safely transport them for you too if required.
They will come to your house a few days before the move and carefully pack up all of your belongings, using only the best materials to make sure everything arrives at your new home safe and sound.
What to start packing up first when moving?
You've got your packing list and supplies to get to have you fully prepared to attack the packing process!
But what should you start packing up first when moving house?
We recommend starting with items that you won't need between now and the day you move.
This includes things like out-of-season clothes, books you haven't read in a while and any other items that are not essential to your everyday life.
Packing these items first will make the process less daunting as you'll be left with only the essentials to pack closer to the date.
Doing so also helps with another (more than likely overdue!) task of decluttering your home.
Rather than packing and transporting unwanted and unused items, why not have a clear out before you move?
It's a win-win!
This will save you time and money, and make your new home feel more like your own from the get go.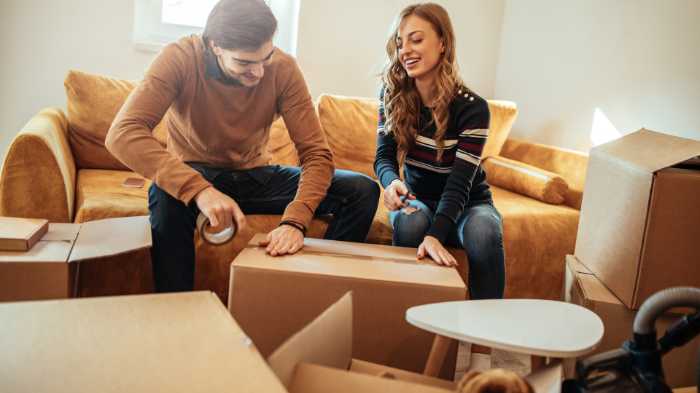 What shouldn't you pack in advance of a house move?
Anything can be packed before a house move, but some items more fragile and hazardous should be left until closer to the date.
Cleaning products
We've all had accidents where cleaning products have spilt in our homes – it's not pretty.
To avoid any accidents (and ruined flooring/furnishings), we recommend packing these items closer to the date and keeping them in a safe place where they can't be spilt or damaged.
Dangerous chemicals
Similar to cleaning products, any items that contain dangerous chemicals should be packed with extra care closer to the date.
Chemicals can also be flammable which means they should be kept in cool storage. Packing into boxes with other items can not only leave them being spilt but create a flammable hazard also.
Valuable items like jewellery
Your valuables are just that – valuable! So it's important to take extra care when packing these items by packing them in a separate box.
We recommend keeping jewellery and other small valuables with you, rather than packing them into boxes. This will help to avoid them getting lost or damaged during the move.
Better still, label the box 'Essentials box' and keep it with you during the move so you have everything you need to hand when you arrive at your new home.
Food and drink
Food and drink are essential items that you'll need on moving day, so there's no need to pack these in advance. Also food waste can increase if you do not use items in time or keep them in the correct climate.
We recommend packing a small box with snacks and drinks for the journey to your new home, as well as some essentials like tea, coffee and sugar.
This will help to keep your energy levels up during what can be a long and stressful day!
What is the easiest way to move house?
If you're looking for the easiest way to move house, then we recommend booking our professional packing and moving service.
It really is the best way to take the stress out of moving!
Our full packing and moving service includes;
All packing materials required such as boxes, labels and packing tape
An efficient team of packers who will carefully pack up all of your belongings using only the best materials
The transportation of your belongings to your new home in our Luton vans by our friendly moving team
A dedicated moving coordinator who will be on hand to answer any questions you have and help with the logistics of your move.
Can you feel your stress levels decreasing already?
We thought so!
Get in touch with us today to find out more about our packing and moving service, and how we can help make your house move as easy as possible.
How to save money on your house move
There are lots of ways to save money on your house move, and it really depends on how much time and effort you're willing to put in.
Gathering free packing supplies
If you're happy to do a lot of the work yourself, then there are plenty of ways to gather packing supplies for free such as using old boxes from the supermarket or asking friends and family if they have any spare.
Make the most of family and friends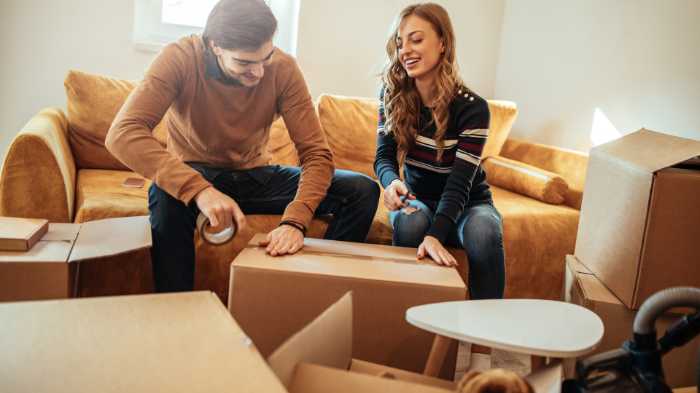 If you're on good terms with your family and friends, then they can be a great source of saving money when moving house.
From tasks such as helping you to pack and move your belongings means you don't have to pay for a packing service, to lending you a van for the day (saving you money on hiring one) – there are plenty of ways that they can help!
Of course, you'll need to return the favour at some point but it's a great way to keep costs down!
Packing hacks from our moving team
So we have covered the above bases of the best process to pack your belongings but we thought you might appreciate some top packing tips from our professional packers to make the task that little bit easier!
Do not put items from different rooms in the same box
This will make unpacking at the other end much more difficult. Not only will you be struggling to locate items, but you'll also make unpacking longer by having to flip from room to room!
Pack heavier items at the bottom of boxes, lighter items on the top
This will make lifting and carrying the boxes much easier and will help to avoid damaging any fragile items that you've packed on top.
Additionally, it also helps keep boxes balanced and prevents any toppling over of valuables.
Label boxes with the room it is destined for
Again, this will help with the unpacking process as you'll be able to easily locate items and put them in the correct room straight away.
If you mark boxes it will also help our moving team on the day as they'll be able to deliver boxes directly to the right room in your new home.
Take extra care and time with glassware and valuables
We recommend using plenty of paper or bubble wrap or packing paper and filling the box as much as possible with these materials.
Remember glassware and valuables should never be loose in a box as they are more likely to get damaged this way.
Be extra careful packing fine glassware such as stem glasses which are extremely fragile with the slightest contact!
Use your suitcases!
If you have any spare suitcases, they can be useful for transporting smaller items such as soft furnishings, packing clothes or other items that can be easily squashed.
Just remember to pack them lightly so that they are not too heavy to lift!
Heavily protect your TV screens
Large easily breakable items like TV screens need to be heavily protected to avoid any damage in transit.
Whilst the best recommended way is to use a crate box specifically designed for the job, you can also achieve this by using less expensive materials such as blankets, sofa cushions or towels.
Ensure you use plenty of these materials and secure them tightly so that the TV doesn't move around inside the box.
Tape screws, bolts and hardware to the item they belong to
It is incredibly frustrating to figure out what screws and bolts are for which item.
Often, there could be hundreds of tiny fixings that may never make their way back to their specific destination.
You can avoid this by putting the fixings into a plastic bag that is taped and labeled to the item they belong to.
That way, they always stay with the object they are intended for.
Pack an overnight bag for your first night
After a long day of moving, the last thing you'll want to do will be locating your comfy loungewear amongst all your belongings.
This is why you should pack an emergency bag for your first night.
Pack a few toiletries (don't forget toilet paper!), some fresh pyjamas and even a change of clothes just in case something happens during the move that makes it impossible to get to your new house right away.
Make sure spillable items are in suitable packaging
Some entire boxes and their contents might be damaged if they get wet inside, so it's good to take extra measures like putting cleaning supplies in a plastic container and food in a bag within the box.
Ensure your items can't leak out by using containers designed for liquid storage.
Packing tips for moving – Conclusion
Even the thought of packing is enough to send some people into a frenzy, but by following the packing tips in this article you can make moving house (or at least packing) stress free!
Our helpful tips are all moving tips that come from years of experience within our removals company.
They should hopefully give you a good guide of how start the moving process!
However if you feel even after reading our packing tips for moving that the stress is still too much to bear thinking about, then contact Marriott Removals today.
Our removals firm carries out house removals daily for home movers in Manchester, Stockport and the surrounding area.
Let's get you to you and your belongings to your new house in the easiest and most stress free way possible!
Let's get you moving home